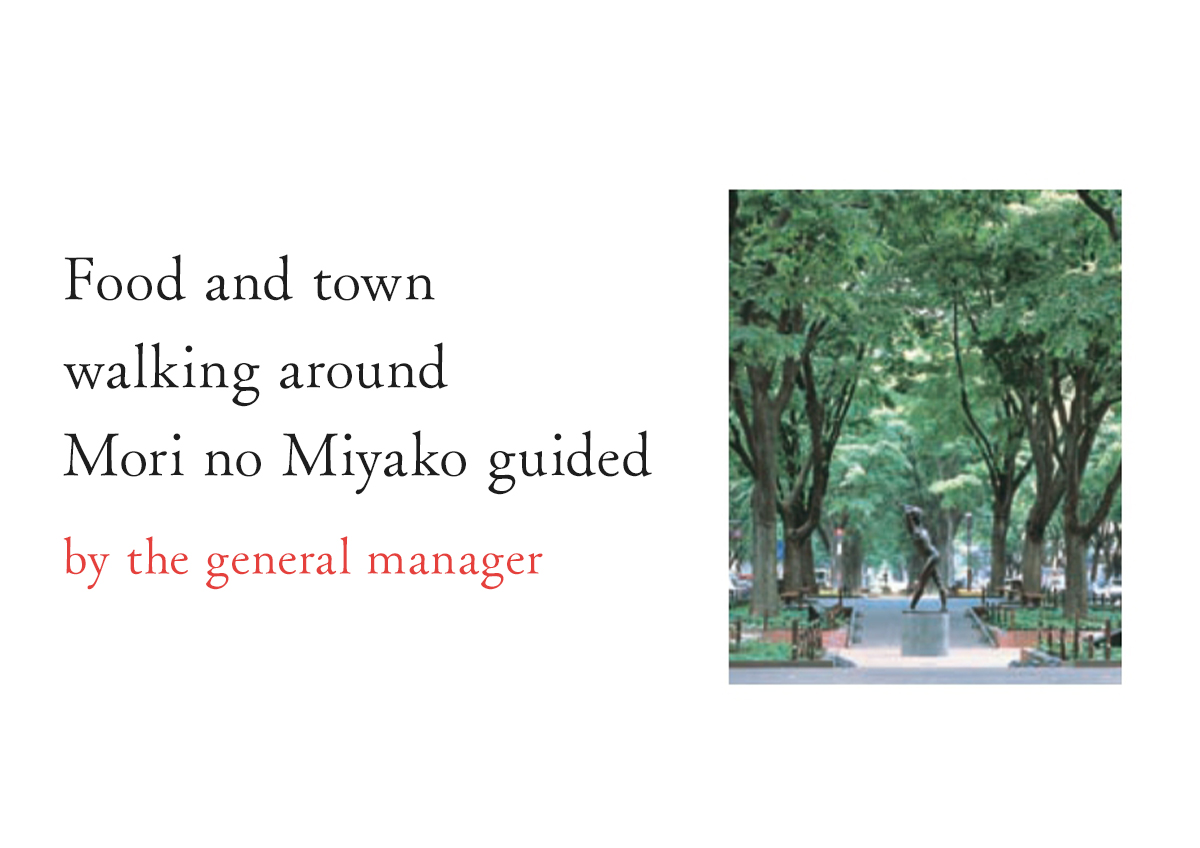 Greetings
November 11, 2011
Ikuo Noguchi, General Manager, Sendai Kokusai Hotel
We sincerely thank you for choosing to stay at Sendai Kokusai Hotel.
What are your impressions of the City of Trees, Sendai? In my opinion, Sendai's charm lies in its compactness that doesn't impose the stress of a big city, even as it continues to urbanize. Department stores, concert halls, and baseball stadiums are within walking distance, the sea and mountains are close by, and golf, skiing, and hot springs are all within a 40-minute radius. You can go out to the bustling Kokubuncho after, savor sushi with a glass of champagne in hand, substitute dessert with a fine Burgundy, and leisurely walk back to the hotel, all while enjoying a mild sense of intoxication. Such luxurious ways to spend your time, which would be unimaginable in Tokyo, can be experienced here at a comfortable level. I have grown to love the City of Trees for this reason.
Lately, we have been receiving more inquiries from customers asking, "Are there any good local restaurants?" For someone like me who dearly loves delicious food and fine drinks, the question of which restaurants at Sendai Kokusai Hotel should be introduced to our guests is a significant challenge. We must ensure our guests' satisfaction, and we must not introduce them to unfamiliar places that could lead to discomfort. After much contemplation, I decided to introduce you to restaurants I frequent regularly. These are places where I can communicate with the owners, including discussions about future plans.
As a result of my personal judgment and bias, the focus has shifted toward unique establishments and places where you can interact with the proprietors, mainly those with counter seating. To better cater to our guests, I have decided to expand the range of choices, and at the end of this guidebook, I will introduce some restaurants that, while within the scope of my experience, may not be part of my regular rotation but are believed to offer a high level of quality.
The budget information provided is based on my actual expenditure. In the case of restaurants, I've assumed an omakase-style meal with an estimated sake consumption of around 3 cups per person. The budget range allows for differences in alcohol choices, such as beer and sake versus wine, for example. Please understand that for restaurants not in my regular rotation, where I have fewer experiences, there may be some budgetary discrepancies.
With that said, we hope you enjoy an enjoyable evening in the City of Trees.
I apologize for the length of the text; it's a substantial piece of content.